Adding free text fields to array questions is a feature definitely missing at Limesurvey. Thereofore, we created this Limesurvey plugin. It supports all Limesurvey array question types. You can add 1-x additional text fields to your Limesurvey array question.
Setup details for the Array With Other Free Text Limesurvey Plugin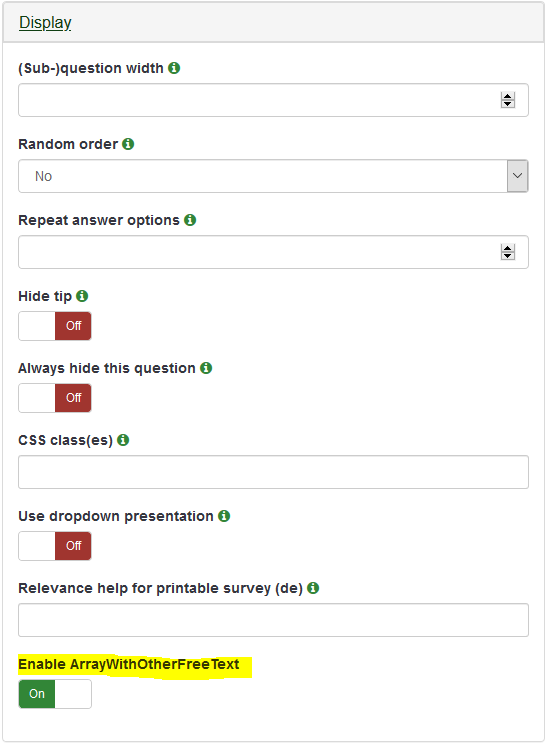 The setup is pretty simple. All you need is a Limesurvey array question and a multiple short free text question. Make sure that both questions are presented on the same page. At the array question our Limesurvey plugin will add a new setting Enable ArrayWithOtherFreeText. This setting is available at the Display section when editing a question. Enable this setting once you have created the additional multi short text question, see screenshot.
The plugin will take all text fields added as sub-questions at the multi text question. On page load it moves these text fields into the last row(s) of your array question. So if you only need a single additional text filed, just create one sub-question. If you require two or more free text options, just add the appropriate number of sub-question.
You can ignore question and sub-question text details at the text question. The new Limesurvey plugin will hide those details automatically.
You can even have multiple array questions with additional free text fields. Just make sure that there is a multi short text question following directly after each array question.
Make sure to leave the field display rows at the Display settings of the multi short text question empty. Otherwise Limesurvey uses textareas instead of text input fields and these are not supported.
Installation
Firstly, download the plugin as ZIP file after payment.
Limesurvey 3.x: Unzip all files. Then copy the "ArrayWithOtherFreeText" folder to the Limesurvey "plugins" directory.
Limesurvey 5.x: Just upload the ZIP file at the plugin manager to install the plugin.
Activate the plugin at the Limesurvey plugin manager.
More information about our Limesurvey plugins
The presentation of the array questions with text fields depends on the template used. You can find several modern Limesurvey themes at our shop. They all support a mobile optimized presentation of these special array questions.
Additional Limesurvey plugins are available at the LimeSurvey front-end plugins page.
All our available plugins are listed at the LimeSurvey Plugins overview page.